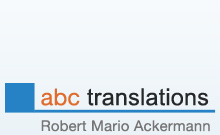 Services
Professional translations from English (British and American) into German and vice versa
By a team of translators speaking English or German as their native language and having many years of experience and the necessary expertise in the relevant subject area
We act as an agency for translations in other language combinations.
Fields of expertise
Technology and engineering (environmental protection, power station technology, process engineering, chemical industry, mechanical engineering, automotive industry, railway, IT, electrical engineering, building industry, and more)
Business (quotations, product descriptions, requirement and performance specifications, invitations to tender, corporate design, websites, general standard terms and conditions (GTC), tenancy agreements ...)
Law (agreements of any kind, articles of association and other incorporation documents, excerpts from laws, ordinances, regulations and EU directives ...)
And much more. Just contact us!
Computer-aided translation
We use the latest versions of all popular office software to support your project.
If you require translations more frequently, we will use computer-aided translation (CAT) tools such as SDL Trados® and across®. Terminology databases and translation memories make the processing of follow-up orders quick and easy. Consistent translation of your specific terms is guaranteed and in the case of new versions of already translated documents the full price will be charged for new lines only.