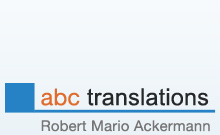 Quality
Apart from on-time delivery, quality is the most important feature of a translation. We provide uncompromising quality at competitive rates. Your translation will be prepared by established translators who have the necessary expertise in the respective subject area.
We use the latest versions of all popular office software.
Our customers are provided with a glossary of the technical terms used in their translation projects.
Your documents and other materials will be kept in strict confidence and at your request returned or destroyed upon completion of your order.

Customers
Siemens AG Germany and Siemens AG Switzerland
Berliner Energieagentur (we have translated their website relaunch in December 2010)
Statistisches Bundesamt (German Federal Statistical Office)
Deutscher Bundeswehrverband (German Armed Forces Association)
And many more …