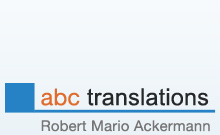 Prices
The cost of a translation is calculated based on standard lines. A standard line has 55 characters including blanks. Translations from English may also be charged per word.
Discounts are available for large volumes and we have special rates for our regular customers.
The price for a translated line ranges from €0.75 to €1.00 plus VAT, depending on level of difficulty. Different rates may apply to other language combinations (not English – German). Rates per word range from €0.08 to €0.11 plus VAT.
We will be happy to provide a binding fixed-price quotation.